With a simple online search of key terms in the title of this page—"arts, activism, spirituality"—one can find a variety of interesting perspectives and resources related to this month's theme of Life of the Spirit and Activism. Here is a selection of what we at The BeZine thought might inspire us all in our work to heal the world.
---
Racial Justice: Art, Spirituality, aand Activism with Rev. Mark Doox
---
Art, Artists, and Activism—
Mandy Patinkin and Kathryn Grody
---
Art & Activism—
Art Institute of Chicago
Highlights from an exhibit at the Art Institute of Chicago show and discuss artwork ranging from the 13th Century through the 20th:
"Communicating new perspectives, questioning the status quo, speaking out about beliefs, and inspiring others to take action—art and activism often share some of the same underlying motivations."
---
Uncovering America: Activism and Protest—
US National Gallery of Art
The U.S. National Gallery of Art's "Uncovering America" for teachers provides materials on Activism and Protest in American art from the American Revolutionary War period to the present (with other themes including the Civil Rights Movement, People and the Environment, and Race in America
---
Stepping Up to Spiritual Activism—
patheos, The Living Tradition
A blog post on patheos, under The Living Tradition, provides an Islamic perspective to Stepping Up to Spiritual Activism, quoting from the Quran and Sufi sources. The post also quotes from a progressive, interfaith advocacy arm of Tikkun magazine, The Network of Spiritual Progressives.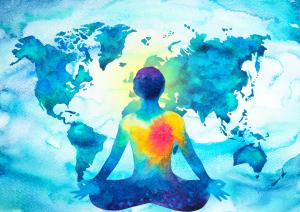 ---
When Contemplation and Spirituality Meet Social Activism—
InnerSelf
This short essay, on InnerSelf, discusses a variety of perspectives ranging from the late Civil Rights activist and Congressman John Lewis to an Indian Brahmin.
---